El Cortijo, Torrox, Malaga.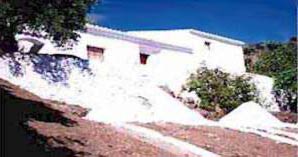 El Cortijo is a traditional Andalucian farmhouse situated near to the old
village of Torrox in the Spanish countryside. The property used to be a
winemaking farm which has now been restored and modernised providing
all you will need for a relaxing break in the Spanish countryside, while still
conserving the Cortijos charm and the Vineyards which provide delicious
grapes during July and August.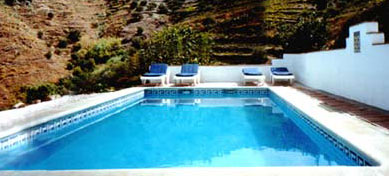 The cortijo is set within an area of small family farms, olive groves and
vineyards and is very private with its own grounds of over two acres.
Although the farm enjoys a quiet country setting, the beach,restaurants
and all the attractions of the coast are just a ten minutes drive. Torrox
Pueblo with its tapas bars and local shops is just five minutes away.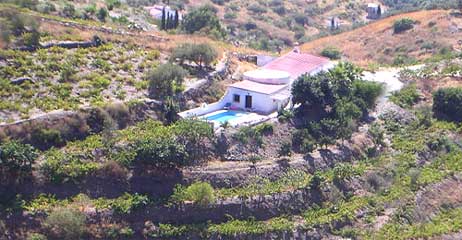 The house can accommodate up to six people and has its own 8x4m
pool, built in BBQ and ample terraces etc for relaxing. The farmhouse
enjoys pretty views in all directions which take in the surrounding
countryside, mountains and the mediteranean Email us for
more information and booking details for this villa.

Weekly Villa Prices.
Oct.-Apr...................................£675, 1110$US, 750€
May,Jun,Sep,Xmas................£775, 1250$US, 850€
July, August............................£875, 1450$US, 950€


Discounts for smaller groups and longer rentals, just ask.
Bookings are are normally weekend to weekend.
Midweek starts are possible for a nominal fee.
Extra days are charged at 1/7th of the weekly rate.
Car Hire (required) can be booked here. Spain Car Rentals.
$ and Euro rates are subject to confirmation.

About -Us : Our Area in Spain: Contact : Torrox Villas : Map of Spain : Map of Spain

Copyright © 2023
Spanish Villas




All our vacation homes are close to the coast or directly on the beach in the Granada and Malaga coastal region. Our area
on a Map of Spain....




This is a delightful area well served for airports and motorways but still preserving all the charm and color that Andalucia is so famous for. More information on Torrox, Nerja and Mijas...




Contact us for our lists
of property and building services....




Spain Vacation Home page click here.....




Selection of charming country fincas, farms and luxury villas from Spain Vacation Rentals ....




As well as our country villas we also offer beach front and town center apartments at Torrox and Nerja.....




We offer some excellent rates on car rentals Spain. Hire cars booked on this site enjoy a discount. Pickup and dropoff at
any Spanish location..




Contact us here for more information on availability and villa bookings......




Our partners and general resource.