El Cortijo, Torrox, Malaga.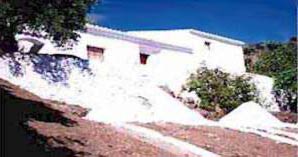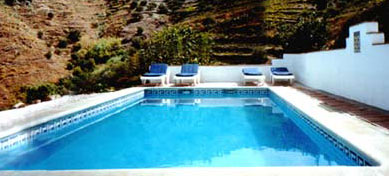 This Finca is located in the countryside of Andalucia around
one mile from Torrox village and ten mins from the coast of the
Costa del Sol. It has a pleasant position overlooking a quiet
valley with views all around of mountains, country and thesea.
The villa has an 7 x 4 meter swimming pool, 3 bedrooms and is
set in 2 acres of vineyards and orange trees, so there is usually
fruit available!! This villa is available for lettings year round.
from £525-£825 (800US -1500US) Email More

Luxury Villa Mijas, Malaga.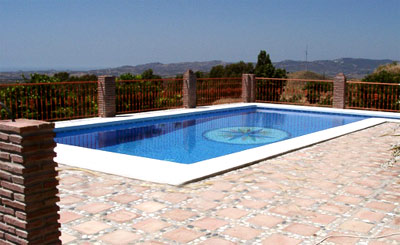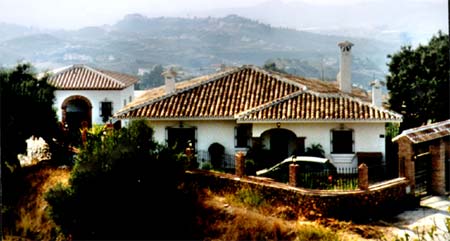 A loveley new villa set near to the popular village of Mijas, 20 mins
from Malaga in southern Spain, offering prestigious accommodation
for groups of up to 10 guests. This luxury property is well appointed
with four bedrooms, three bathrooms set in beautiful formal gardens,
Rental from £775 to £1575 (1300-2800$US)Email More

La Mexicana, Torrox, Malaga.



Villa Mexicana is in the country on the Costa del Sol southern Spain,
thirty min drive from Malaga. The house provides verycomfortable
accommodation for up to 6guests. There are three bedrooms a large
lounge, spacious terraces and an 8x3 metre swimming pool. This is a
a very tranquil villa 10mins from the costa available for rental all year.
Weekly from £450 - £850 (750$US-1400$US) Email More

Luxury Villa MIjas, Malaga.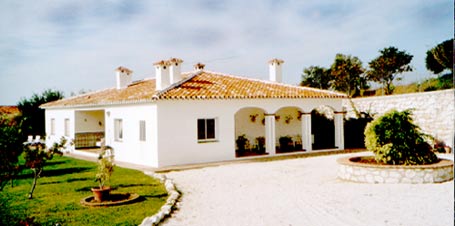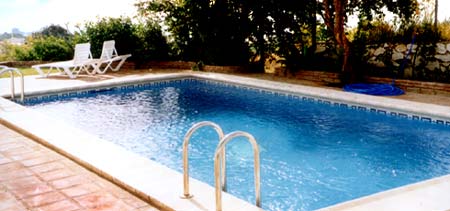 A spacious family villa set close to the popular village of Mijas,
Malaga. Executive villa in a superb location with every modern
convenience. The villa has 4 bedrooms, 5 bathrooms and offers
accommodation for groups of up to nine or ten. Rental available
from £800 - £1600 (1400 to 2700$US)Email More

Casa Tome, Torrox, Malaga.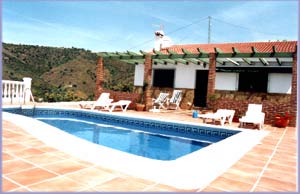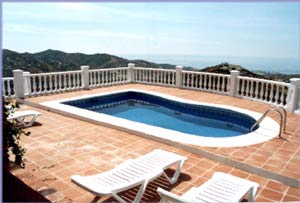 This villa has stunning views over the Torrox and Competa valleys
with the sea as a backdrop. Located fifteen minutes from the beach
two km from Torrox pueblo, this villa has 3 double bedrooms and a
pool of 8 x 4m. The house has a fully-fitted kitchen and a comfortable
lounge. There is also a poolside shower, a barbecue area and a large
terrace etv. The villa is surrounded with avocado trees and vines.
Weekly £450 - £850 (750$US - 1400$US)Email More

Vacation rental homes Spain : Apartment rentals in Spain : Property Sales Spain: About -Us.
Our Area of Spain: Contact : Villas in other parts of Spain : Car Rentals in Spain : Maps of Spain
Copyright © 2000
SpainvacationRentals



All our vacation homes are either near to the coast or directly on the beach front. Here is a link showing our area
on a Mapof Spain ..




This is a delightful area with good transport and communications but still preserving the charm &
color for which this area
of Spain is well known. Torrox, Nerja Mijas ..




Contact us here for our list of Villa Sales a nd construction plans ..




The Spanish Vacation
Rental mail page .....




Selection of country farms and villas from Vacation Rentals..




As well as our country villas we offer beach &
town Villas at Torrox
Costa and Nerja ...




Excellent rates for Car
Hire Spain. Bookings made from this site are
10% discounted .....




Contact here for more
on availability of villa bookings etc .......




Our preferred sites partners and general resources .....